Bliss Welness VitaBliss Women's Daily Multivitamin & Herbs | With Vitamin A C D E K B | Supports Immune Health and Maintains Hair & Skin Health - 60 Tablets
Regular price

Rs. 699.00

Sale price

Rs. 479.00
Get 50% Off
For Your Absolute
Get 50% Off
LipidBliss Plus
Extra 5% Off
On Your First Order
Estimated Delivery

Estimated Delivery by 3 to 5 Days
OFFERS Available

Bliss Wellness LipidBliss Plus – Get 50% off! Use code: LIPIDBLISS50

Unlock Slim Bliss Absolute: Get 50% Instant Discount with Code SLIMBLISS50

Extra 5% Off on Your First Order Use Code: WELCOME5

Get FREE Shipping(Prepaid Orders) On All Orders
 Manufacturer

15/1, Desai Corporate Mangal Compound, Dewas Naka, behind Mercedes Showroom, Indore, Madhya Pradesh 452010
Key Features and Benefits:
Essential Vitamins and Minerals: Our multivitamin contains a balanced blend of key vitamins such as A, C, D, E, and the spectrum of B-vitamins, including folic acid. These nutrients play crucial roles in supporting energy metabolism, immune function, healthy skin, and overall vitality.
Antioxidant Support: We've incorporated powerful antioxidants like vitamin C and E into our formula. These antioxidants help combat harmful free radicals, which can contribute to premature aging. By neutralizing free radicals, our multivitamin aids in maintaining youthful-looking skin and supports the body's defense against oxidative stress.
Bone Health: Our Women's Daily Multivitamin includes essential minerals like calcium, magnesium, and vitamin D, which work together to support strong and healthy bones.
Hormonal Balance: We understand that hormonal fluctuations can sometimes affect women's well-being. That's why our multivitamin contains specific nutrients like vitamin B6, which supports a balanced mood and emotional well-being.
Energy and Vitality: With a blend of B-vitamins and minerals like iron, our multivitamin helps support energy production and combat fatigue. These nutrients play a vital role in converting food into energy, making them essential for active, busy women.
Hurry, only 17 items left in stock!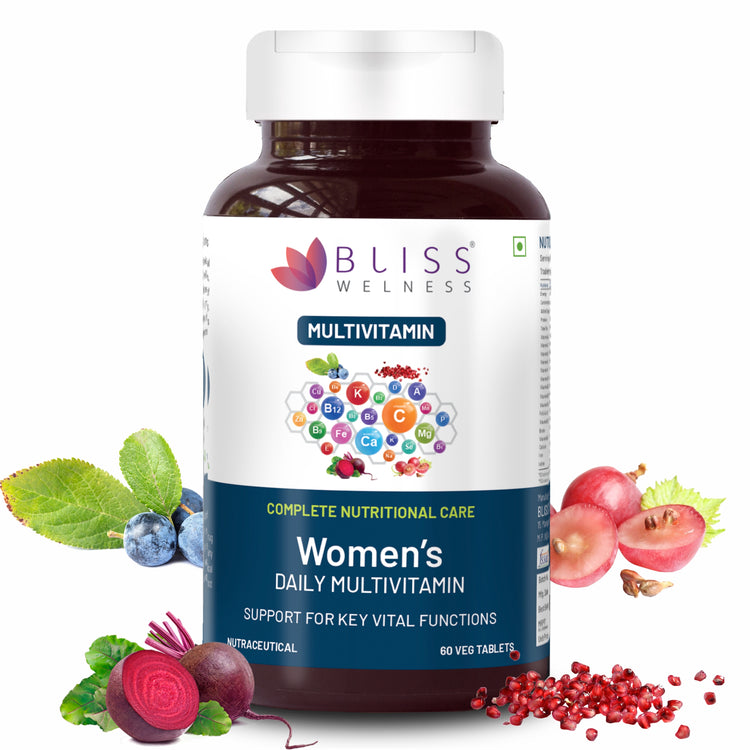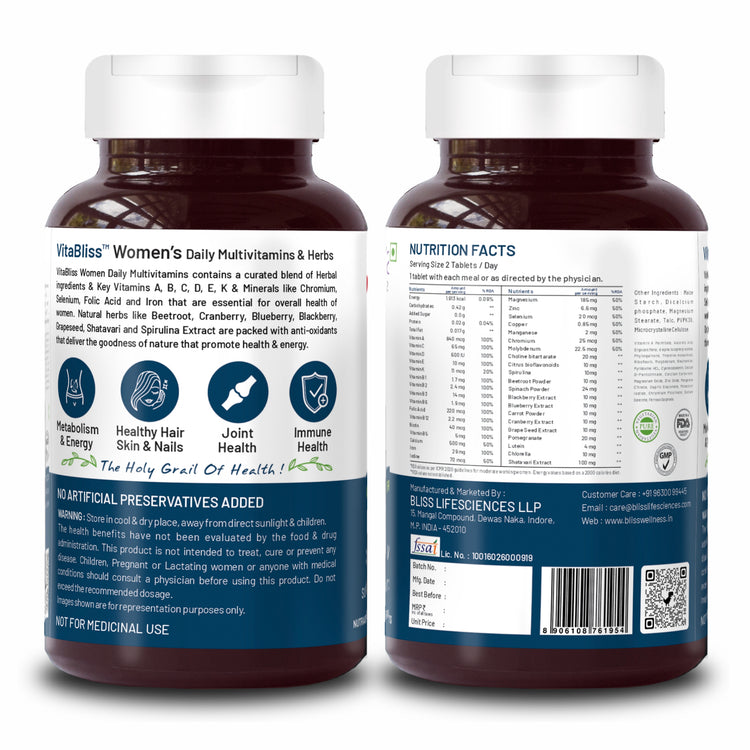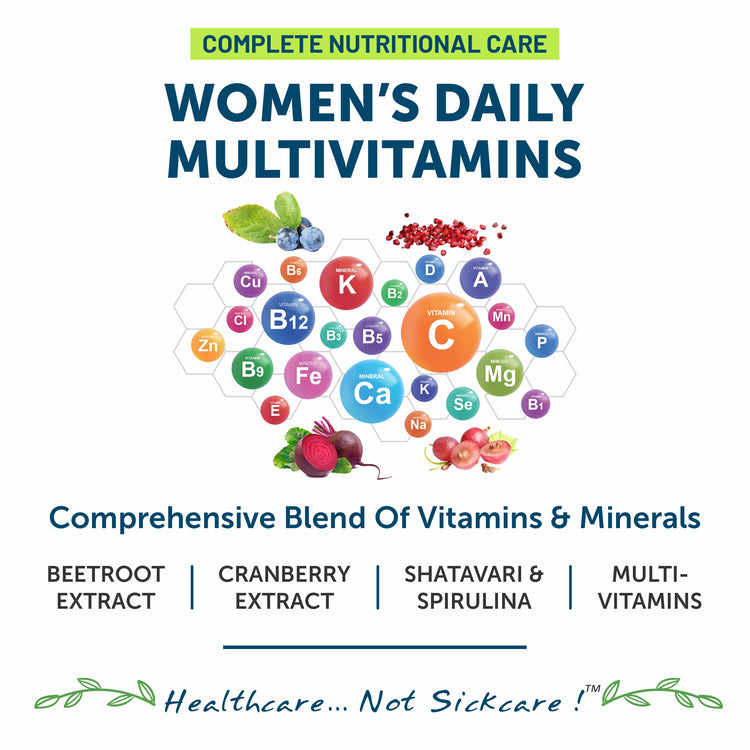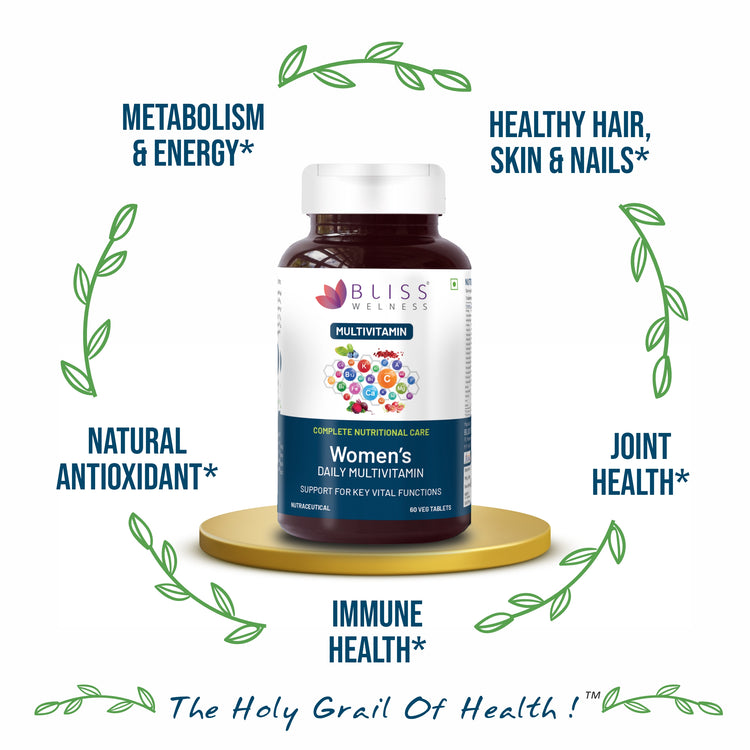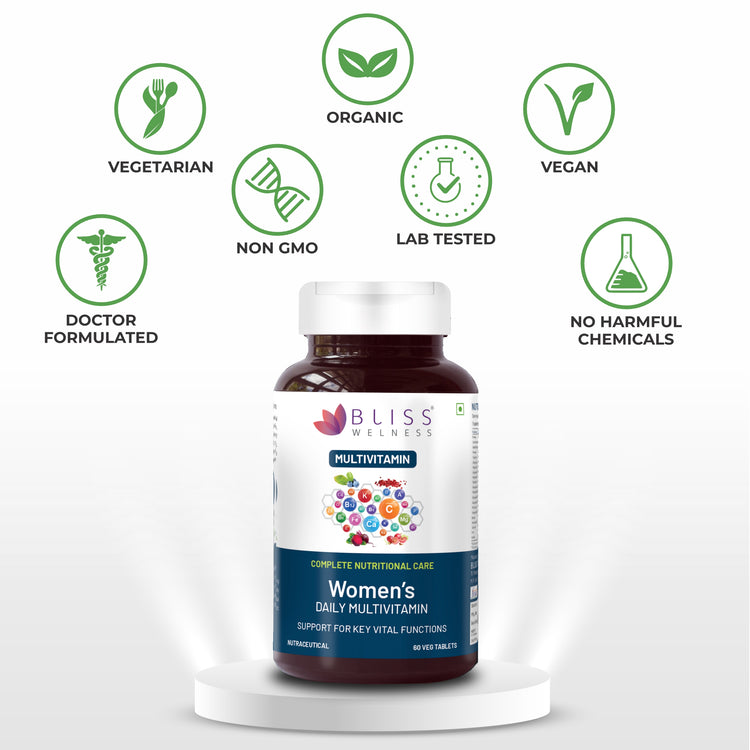 FAQs
How do I know if myOrder is confirmed?

Once your order has been confirmed at your end and payment authorization has been received, we will confirm the receipt of the order through the email ID provided and begin processing it. You will receive an email containing the details of your order. In this mail you will be provided with a unique Order ID, a listing of the item(s) you have ordered. You will receive shipping details with the respective tracking number(s) through the email ID provided.
How do I check the status of my order and track my Order?

Once your order is processed you will receive an email with the shipping details and tracking ID. You can review the status of your orders and other related information in the 'My Account' section. Log into to your account to view your order history. You can also use the chat box and get in touch with us and our team can assist you with the same during the working hours.
How do I cancel my order?

To cancel an order you need to get in touch with our customer service team via the chat box on our website or email us on online@blisslifesciences.com and our team shall get back to you within 48hrs.