Bliss Welness VitaBliss Women's PCOS Multivitamin | With Vitamin A C D E B | Menstruation Regulation,Manages Mood & Hormonal Health- 60 Veg Tablets
Regular price

Rs. 799.00

Sale price

Rs. 579.00
Get 50% Off
For Your Absolute
Get 50% Off
LipidBliss Plus
Extra 5% Off
On Your First Order
Estimated Delivery

Estimated Delivery by 3 to 5 Days
OFFERS Available

Bliss Wellness LipidBliss Plus – Get 50% off! Use code: LIPIDBLISS50

Unlock Slim Bliss Absolute: Get 50% Instant Discount with Code SLIMBLISS50

Extra 5% Off on Your First Order Use Code: WELCOME5

Get FREE Shipping(Prepaid Orders) On All Orders
 Manufacturer

15/1, Desai Corporate Mangal Compound, Dewas Naka, behind Mercedes Showroom, Indore, Madhya Pradesh 452010
Key Features:
PREMIUM PCOS SUPPLEMENT FOR WOMEN: VitaBliss Women's PCOS is a science-backed vegetarian formula consisting of vitamins & minerals, Alpha Lipoic Acid, Zinc, and other rich ingredients. It is beneficial for managing women's health issues such as hormonal health management and balancing metabolism.
MENSTRUATION REGULATION & HORMONAL BALANCE: Women's PCOS Multivitamin with Vitamin D assists hormonal balance regulation to aid fertility and menstrual health. Zinc, Magnesium, and other ingredients are involved in estrogen and progesterone production supporting regular period cycles, reduced period cramps, and painless periods. 
MOOD & ENERGY ENHANCER: It supports the production of chemicals associated with happiness such as dopamine and serotonin. Vitamin B and Omega-3 are also involved in lessening the effects of depression and other mental disorders on brain functions. The PCOS supplement also balances metabolic responses and maintains a healthy weight. 
PCOS BALANCER: Inositol, a chemical balancer supports the inhibition of polycystic ovary syndrome symptoms like acne. Manjistha and other blood-purifying ingredients maintain clear skin and aid blood detoxification. It also helps with androgen level regulation. control abnormal facial hair growth & other PCOS symptoms.
VEGETARIAN NATURAL PURE: 100% Vegan / Vegetarian, NON-GMO, Natural & Pure.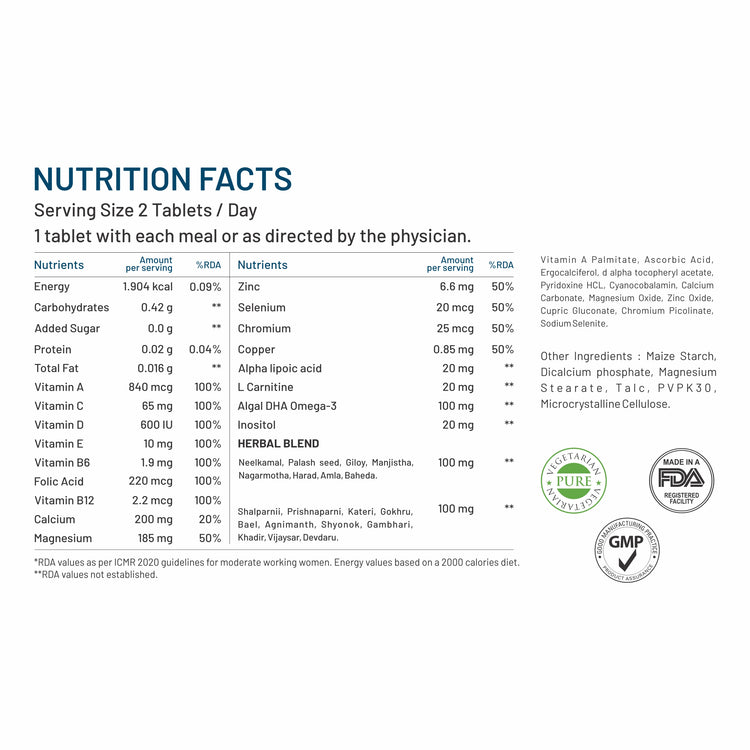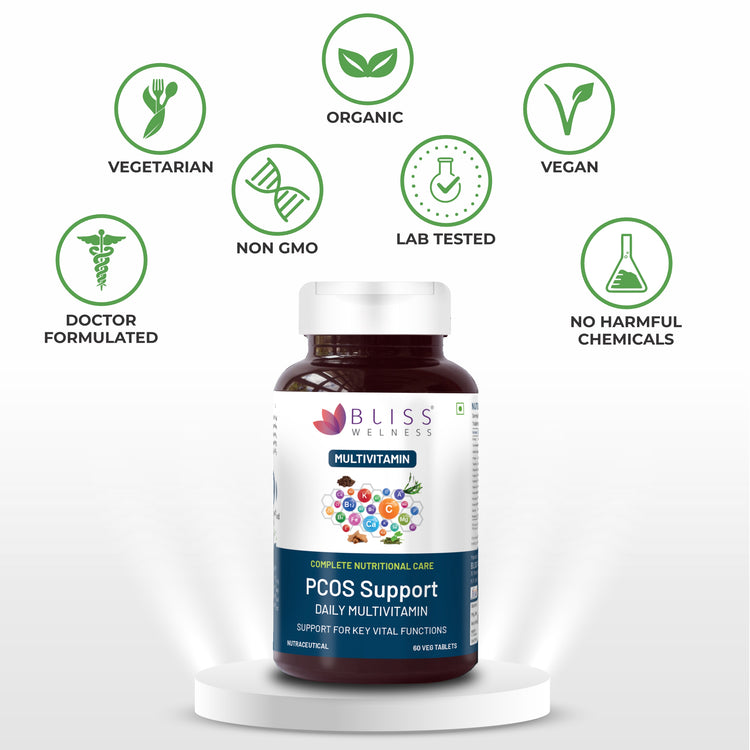 FAQs
How do I know if myOrder is confirmed?

Once your order has been confirmed at your end and payment authorization has been received, we will confirm the receipt of the order through the email ID provided and begin processing it. You will receive an email containing the details of your order. In this mail you will be provided with a unique Order ID, a listing of the item(s) you have ordered. You will receive shipping details with the respective tracking number(s) through the email ID provided.
How do I check the status of my order and track my Order?

Once your order is processed you will receive an email with the shipping details and tracking ID. You can review the status of your orders and other related information in the 'My Account' section. Log into to your account to view your order history. You can also use the chat box and get in touch with us and our team can assist you with the same during the working hours.
How do I cancel my order?

To cancel an order you need to get in touch with our customer service team via the chat box on our website or email us on online@blisslifesciences.com and our team shall get back to you within 48hrs.