Bliss Welness Detox Bliss Skin Detox Radiance Glow | Sea Buckthorn Evening Primrose Aloe Vera Curcumin | Anti Acne Pimple Control Blood Purification Toxins Removal Herbal Supplement - 60 Veg Tablets
Regular price

Rs. 699.00

Sale price

Rs. 479.00
Get 50% Off
For Your Absolute
Get 50% Off
LipidBliss Plus
Extra 5% Off
On Your First Order
Estimated Delivery

Estimated Delivery by 3 to 5 Days
OFFERS Available

Bliss Wellness LipidBliss Plus – Get 50% off! Use code: LIPIDBLISS50

Unlock Slim Bliss Absolute: Get 50% Instant Discount with Code SLIMBLISS50

Extra 5% Off on Your First Order Use Code: WELCOME5

Get FREE Shipping(Prepaid Orders) On All Orders
 Manufacturer

15/1, Desai Corporate Mangal Compound, Dewas Naka, behind Mercedes Showroom, Indore, Madhya Pradesh 452010
Key Features:
STRONG AYURVEDIC SKIN DETOXIFIER : Unique Ayurvedic Herbs Combo of Sea Buckthorn 50MG Evening Primrose 50MG Aloevera 140MG Omega-3 75MG Curcumin 50MG Bamboo Shoot 50MG Neem 100MG Anantmool 80MG Manjistha 50MG Chirayta 100MG Beet Root 150MG Chopchini 50MG Piperine 10MG helps detoxify skin and promotes glowing and healthy skin.
ANTI ACNE & PIMPLE RESISTANT : The unique detoxification properties of the Ayurvedic Herbal Blend gives an Anti-Acne and Anti-Pimple property for smoother skin.
STRONG ANTIOXIDANT : This special Ayurvedic Herbal combo comprises of Neem Extract, Curcumin Extract, Beetroot Extract, Aloevera etc that contribute as strong natural detoxifiers to give you a Radiant and Glowing Skin.
ANTI-INFLAMMATORY : Ingredients like Beetroot & Curcumin possess strong anti-inflammatory properties along with heavy metal detoxification properties.
VEGETARIAN NATURAL PURE : 100% Vegetarian / Vegan, Natural, Herbal and Pure.
Product Description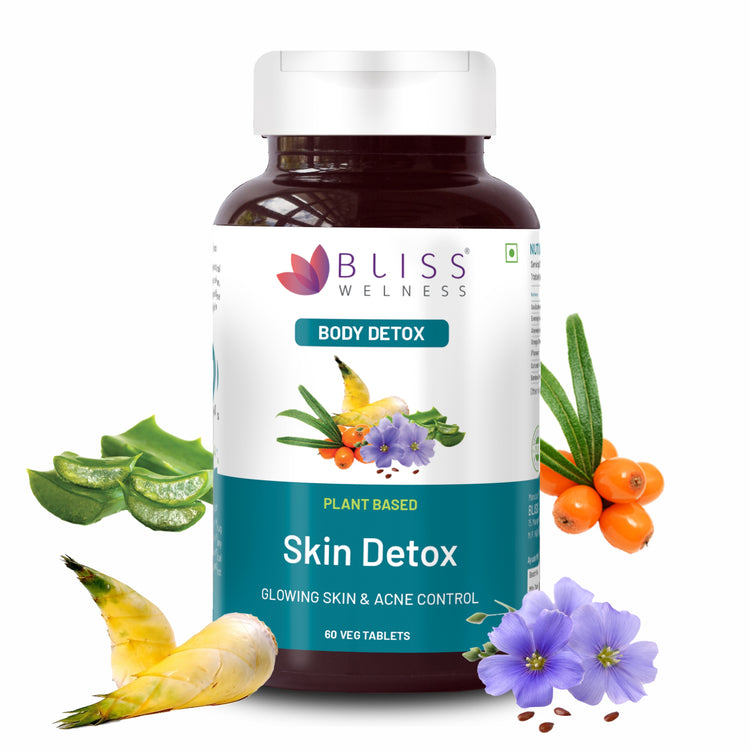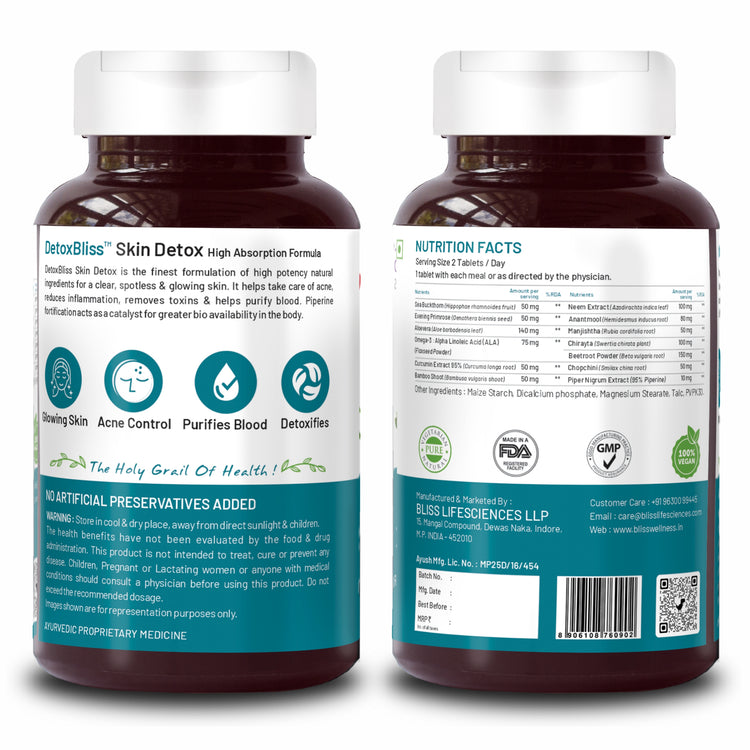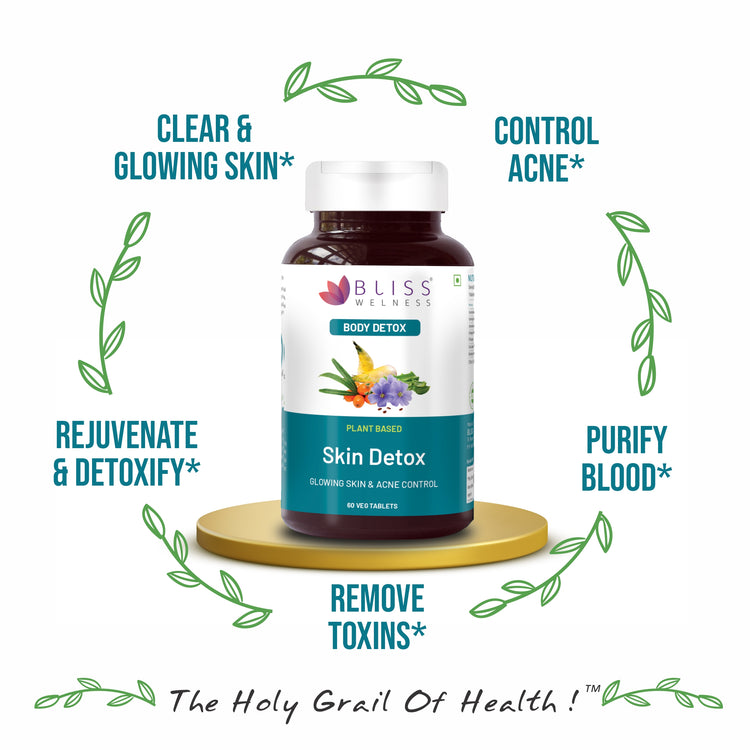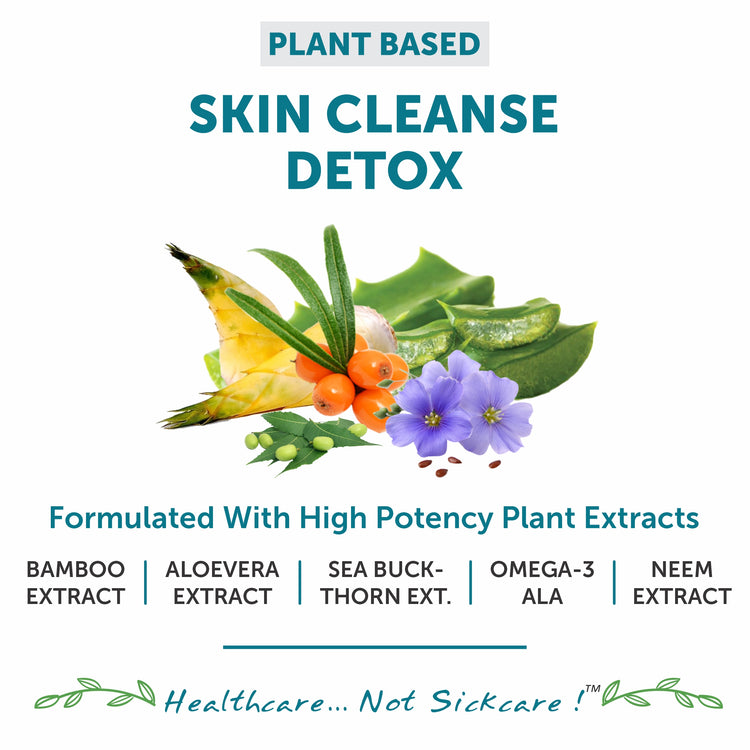 FAQs
How do I know if myOrder is confirmed?

Once your order has been confirmed at your end and payment authorization has been received, we will confirm the receipt of the order through the email ID provided and begin processing it. You will receive an email containing the details of your order. In this mail you will be provided with a unique Order ID, a listing of the item(s) you have ordered. You will receive shipping details with the respective tracking number(s) through the email ID provided.
How do I check the status of my order and track my Order?

Once your order is processed you will receive an email with the shipping details and tracking ID. You can review the status of your orders and other related information in the 'My Account' section. Log into to your account to view your order history. You can also use the chat box and get in touch with us and our team can assist you with the same during the working hours.
How do I cancel my order?

To cancel an order you need to get in touch with our customer service team via the chat box on our website or email us on online@blisslifesciences.com and our team shall get back to you within 48hrs.